Do you have a coffee lover or aficionado who you need to find the perfect coffee gift for?
Coffee lovers relish their delicious, frothy and aromatic coffee served in their favourite cup. Why not offer them their personalised coffee tumbler or take a step further and give them an affordable espresso maker- so they can enjoy their coffee in peace without having to run to their local cafe!
Coffee gifts are the perfect way to show your care to a coffee loving friend. Simple, easy gift ideas that are trendy, stylish and sure to impress any coffee lovers without you having to break the bank.
These coffee gifts are readily available on Amazon, and they make perfect Thanksgiving, get-well, birthday, Christmas or even travel gifts.
Coffee gifts for coffee lovers:
Hot Sox – Women's (Coffee Design)
Price indicator $
I love these Hot Sox Originals! Perfect regardless of the brew you like.
An absolute must for every sock drawer and the right gift for your coffee lover.
Created with artistic excellence and premium knitting technology, they will surely delight all coffee lovers. You can get the pair in coffee colour to match their love.
With 10000 plus customer ratings, this is a great gift.
Coffee xx
Price indicator $
Women love jewellery. You can make her gift extra special with this cute and adorable coffee necklace. Crafted out of high-quality pewter, this classic handmade necklace comes with guaranteed satisfaction.
The chain is made of stainless steel composition, which is durable and rusts free to last her a lifetime. This fantastic coffee charm comes with a coffee pendant and is perfect for any gifting occasion. A bonus, it comes with a beautiful quote for your coffee lover.
Picnic Basket xx
Price indicator $
California Picnic's Deluxe picnic set is a fabulous and thoughtful gift containing some beautiful items like ceramic plates, stainless steel knives, forks and spoons, steel coffee mugs, wine glasses, cotton napkins, an insulated wine holder and a cooler bag- the list goes on!
This beautiful picnic hamper has genuine leather straps with inner cotton lining to keep your food clean and warm. A perfect picnic basket for your loved ones that is eco-friendly, durable and versatile with round-the-year usage. You need to get this to enjoy that much-needed outing!!
Mens Funny Coffee T-Shirt
Price indicator $
The coffee graphic T-shirt is a cute and fun way to inspire your boyfriend, brother or other dear ones. The T-shirt boasts of being superior branded tees, designed and printed in the US. The tees are made of cotton blend, super soft, comfortable and lightweight with excellent customer ratings. Your love is sure to be impressed with your choice as it also has funny coffee inspirational quotes.
With an affordable price tag, and excellent material, this is a great coffee gift that can be gifted alone or paired with jeans for a coffee break or a movie night- the ideas are infinite.
Coffee cup Enamel LapeXX
Price indicator $
A coffee pin that is stylish, elegant and suited for any occasion. Coffee cup Enamel Lapel pin can be a fantastic gift idea for your friends, colleagues or even your supervisor at work. This pin is professional and fashionably designed to give a beautiful look on your hat, coat or jacket to highlight your style.
The enamel pin is 1.4 inches, made of high-quality zinc alloy material that is sturdy, durable and comes with a pin back and a metal clutch. It gets even better with an exquisite transparent gift bag with a cute card—what a beautiful way to treat your coffee friend.
Kamira Moka XX
Price indicator $
Now, this is your friend's dream come true. Just imagine their smile when you give them the Kamira Moka Express Espresso maker and that too, handcrafted! Kamira Espresso maker is Italian designed and manufactured, with a unique patented device.
The Espresso maker is stylish, durable and long-lasting with a stainless steel finish. Being cost-effective and eco-friendly, it will definitely tick all your boxes for the perfect coffee gift at an affordable price tag and extended warranty.
Coffee Lover Mug Charm bead for Women
Price indicator $
A coffee bead charm for the coffee addict, who happens to be your bestie too. The Coffee Lover Mug Charm bead is the ideal bead charm to keep your favourite coffee moments alive and as an addition to her jewellery collection.
The Charm is made of 925 sterling silver, with a 5mm unthreaded core that can be hooked onto your favourite chain. With excellent artistry, customer satisfaction and flawless finish, this will be a perfect complement for birthdays, celebrations, gatherings and the holiday season; your coffee lover will totally love it.
Manual Portable Handground Coffee bean Grinder-by Created Eco
Price indicator $
The Manual Eco coffee grinder is an exceptional grinder with excellent quality, ergonomic shape and a secure lid for effortless grinding. This manual grinder can be easily adjusted to get the right-sized granules for your Espresso or Moka cuppa.
A manual coffee grinder from Created Eco will be your gourmet Christmas gift for the coffee enthusiast in your life for the shape, quality and functionality. Additional features are eco-friendly, lightweight and portable to travel with you on holidays. So don't miss out on this simple and beautiful gift for any age group and budget.
Natural Coff XX
Price indicator $
Do you struggle with gift ideas for your partner, who is all about eco-friendly and plastic-free products, and is a lover of caffeine beverages? Well, you have found your choice: the Natural Coffee Husk Polymer cup. Why should you choose this cup?
Iconic design, slim and easy-grip form.
Coffee cup made of the coffee husk, biodegradable and eco-friendly.
Provides thermal protection.
Keep your coffee hot and richly tasting for long.
Long-lasting and chip or crack resistant.
Recyclable, reusable and universally stackable.
Globally recognised for being an aesthetically pleasing beautiful mug.
Choosing a gift for the coffee and nature-lovers – go for the Huskee Cup.
Contigo Autoseal Mug, Monaco Blue!!!
Price indicator $
The Contigo Autoseal coffee mug is a large travel cup ideal for commuters and travellers to keep them (and their coffee) warm. The travel mug is made of stainless steel with THERMALOCK vacuum insulation to keep your drink nice and hot.
Available in different colours, it also features Autoseal technology that assures you safe and effortless use with one hand. With the bonus of easy cleaning and being dishwasher safe, it is going to be the right gift for your busy partner on their drive to work.
This coffee mug, with its versatility, is Amazon's choice and is sure to be a coffee delight.
Bodum Australia Coffee Maker French Press, Chrome, Silver 34 oz
Price indicator $
Chambord French Press coffee maker is one of the ultimate gifting ideas for your caffeine enthusiast. This French Press brews premium coffee in less than four minutes. The stainless steel body is fitted with a mesh filter to extract the aromatic coffee oils for a full-flavour coffee.
With a durable design and great serving capacity, the French press is known to produce full-flavoured, delicious coffee for coffee lovers.
The French Press coffee maker – with borosilicate glass – is cost-effective and the perfect gift for the coffee drinker of any age group.
Be Shiny's Arabica Coffee Scrub-skin exfoliator for face, hands and body XXX 
Price indicator $
Did you know that coffee is not just suited for your palette and mood but acts as an excellent natural exfoliator and body scrubber? Arabica coffee scrub is voted as the best seller coffee scrubber for loads of reasons:
Acts as a mechanical and chemical exfoliator for a fresher, younger healthy-looking skin.
Highly moisturising and specifically formulated for acne, stretch marks and cellulitic skin concerns.
Packed with antioxidants, this scrub is best suited for mature skin to reduce puffiness, swelling and dark circles.
Contains powerful ingredients like coconut oil, shea butter, cocoa butter and dead sea salt to nourish, hydrate and diminish skin blemishes.
Arabica coffee scrub will not only leave your loved one feeling soft and hydrated; they are going to smell divine just like fresh Espresso.
Grinder Coffee Roasted Beans, Crema 1 kg
Price indicator $
Is it not wonderful to wake up to the smell of freshly brewed, aromatic coffee? Share your love and joy this holiday season by gifting them the smooth and creamy Roasted Beans Grinder Coffee. These coffee beans are uniquely and carefully roasted locally to give you a delicious cafe experience each time, every time.
Grinders Coffee is passionately roasted and blended into delicious flavours and aromas that you are going to love. Sourced from the best coffee regions of the world, roasted and blended in Australia to give you the perfect blend, you will be happy with your purchase. Best of all, it is 100 per cent Australian made. Share your coffee love!
Coffee Travel Mug, 20 oz Stainless Steel, Double Wall Vacuum Insulated with 2 Splash Proof Lids, Straw and Brushes, (Wood).
Price indicator $
Premium Sivaphe stainless steel is one of the best gifts you can give your coffee lover on any occasion. The steel tumbler gives you unique, versatile features that are sure to delight anyone and serve you for years to come. Classic features include:
Made of 18/8 premium stainless steel that is durable, shatterproof, rustic free, BPA free and eco-friendly.
Double vacuum insulated tumbler to keep your coffee at the right temperature for more extended periods.
Prevent splashing design with two lids and a sliding button to keep your drink safe from spilling and from buggy invaders.
Right size, convenient and portable.
Various colour options with customer satisfaction guaranteed.
The Sivaphe stainless tumbler is sure to be a perfect gift idea for your family with excellent reviews and an Amazon best-seller at an affordable price tag.
Barista Sunbeam Coffee Machine
Price indicator $
Imagine being gifted your favourite coffee machine? Wow, it's like a dream come true. Turn your coffee friend's vision into reality with the Sunbeam Cafe Barista Coffee machine. To put it simply, it is an easy way to make perfectly brewed coffee for a fresh start.
The receiver of this gift will get delicious, cafe-style espresso, cappuccino or latte with a one-touch control panel. It features an automatic milk frother and a removable milk reservoir that promises to keep your milk fresher for longer.
The coffee machine also has a large removable water tank and can fit multiple users for small or larger cups of coffee. It is a little pricey, but when you compare the quality, efficiency and best of all, the recipient- this is definitely a must-have!
Fun Espresso Double Wall Insulated Glasses (Cat).
Price indicator $
A cute and adorable coffee gift for that attractive person in your life: Double Wall Insulated Espresso cup. Each mug is made of borosilicate glass that is heat resistant, durable and keeps your coffee hot and steaming for longer.
The mug has a cute cat or bear picture printed on the glass that is lead-free and keeps your drink safe. With its functionality, everyday use and excellent multipurpose usage, this mug makes a perfect gift for your friend or family. Such a delight to enjoy coffee.
Byron Bay Coffee Company Dark Chocolate Coated Coffee Beans, 125g.
Price indicator $
Everyone loves chocolate! How about chocolate and coffee? Yum, it's like a combination made in heaven. The Byron Bay Dark chocolate coffee beans are your confectionery in delicious packaging. They are coffee beans coated with dark chocolate.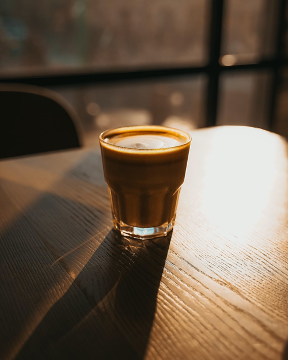 The coffee beans are roasted to honeycomb consistency and then coated with dark chocolate to give that crunchy texture, while it delicately melts on your tongue. With excellent ratings, this is a beautiful and crunchy delicacy for your son, daughter or a loved one far away.
Conclusion – Best Coffee Gifts
Coffee enthusiasts love coffee gifts. Whatever your ideas, needs, or budget, there is a unique and beautiful coffee gift for that significant and precious person in your life. Happy shopping!!