The 5 Best Coffee Moka Pot Coffee Makers For Sale
5 Best AeroPress Coffee Makers
Manual Coffee Machines Explained
Can't afford an electric coffee machine but still looking for a quality cup of coffee? You may not be aware, but there is a huge range of non-electric coffee machines available on the market.
Today, I'm going to walk you through some of the best (non-electric) manual coffee machines I have discovered in my travels while weighing up the pros and cons of each of these options.
Aeropress Machines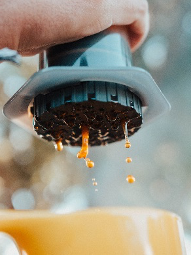 Aeropress machines are a great way to make reasonably good quality coffee on the go. This manual coffee machine has three essential parts, two plastic tubes, and a filter cap. Aeropress machines are a modern take on the traditional coffee plunger in that you strain ground coffee as part of the brewing process.
Pros
Portable, compact, and lightweight. Making it an ideal travelling companion when camping or travelling to hotels
Takes a maximum of two minutes to brew
It makes a reasonably good cup of coffee, but coffee plungers still reign supreme
Low maintenance and super easy to clean up – making it ideal for when travelling.
Cons
It is only suitable for making one cup, and a small one at that!
You will require specific paper filters to be able to use the Aeropress. Not available everywhere, but can be purchased online.
Drip Cones
Drip machines (aka coffee percolators) are a traditional way of brewing and drinking coffee in America. The drip cone looks like a mini funnel that sits on top of your mug. Unlike the electric percolator that makes coffee by the jug, the drip cone makes your coffee by the mug.
To brew your coffee, you put a paper filter in the cone and add your ground coffee beans. Then pour boiling water over the ground beans. Then voila, there you have it! Coffee drinkers love that the drip cone will deliver you a piping hot cup of percolated coffee.
Pros
Drip cones are easy to use and are low maintenance – great for people on the go
Great for people who prefer a light, crisp coffee without the grittiness that is present in plunger coffee
A cost-effective way to create high-quality brew on a budget
If you plan to travel and want cost-effective coffee, a drip cone is a compact, lightweight companion. These are available in durable materials such as metal or plastic products.
Cons
Coffees made using a drip cone are not full-bodied. So if you are after an espresso flavour, you are in the wrong place.
Ceramic drip cone options are a little more fragile to carry with you on the road. 
Coffee Plungers
The French press, cafetiere, or press pot are just a handful of the terms used worldwide to describe plunger coffee. Coffee plungers brew strong, well-rounded coffee. They are super straightforward, requiring you to add ground coffee (or pre-ground coffee) to the beaker with hot water, then steep for about four minutes, strain, and pour.
Pros
The plunger is low maintenance and easy to maintain
It is easy to use
It is a cost-effective option to other coffee making alternatives on the market
It allows you to brew with really fresh beans which make a rich and delicious coffee
The hot water does not scald the ground beans, unlike the Moka pot.
Cons
Plungers are notorious for not straining the beans well and subsequently leaving grainy sediment in your brew (aka muddy waters).
The process of plunging coffee takes slightly longer than other coffee brewing options.

Cold Brew Coffee Makers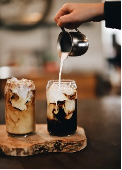 Cold brew coffee is made by steeping (soaking) coarsely ground beans at room or cold water overnight, making a cold brew concentrate. The brewed coffee is then dispensed into a secondary container to serve. Cold-brew coffee can be stored in the fridge for two weeks and can be served up as either a hot or cold beverage. Cold brew coffee is one of the most common and best brews for iced coffee.
This cold brew article has in-depth content on cold brews and the things to look for in cold brew makers and cold brew machines.
Pros
It is a hands-off brewing option that makes large batches of coffee
Coffee tastes rich and full-bodied
This is a great summer alternative
Coffee is versatile. You can drink it cold over ice or as a hot coffee concentrate.
Cons
It takes a long time to brew – 24 hours to be precise
It requires more coffee grounds than other brewing methods such as plunger coffee and drip cones.

Moka Pot
The Moka pot is a stovetop espresso maker that is a classic way of brewing and drinking coffee in Europe and Latin America. Moka pots comprise three components:
The bottom chamber is for water
The middle is for coffee grounds, and
The top chamber is for the final product – the coffee itself.
To brew this coffee, you fill-up the chambers, the bottom with water, the middle with ground coffee, and then leave the third chamber empty. Then place the pot on your stovetop to boil. As the water starts to boil, the steam pressure pushes water up through to the coffee grounds (middle chamber), and the brew itself ends up in the top chamber.
Pros
Moka pots are easy to use once you get the hang of it
It is a fast way to make a strong coffee
It is inexpensive in comparison to other coffee brewing machine alternatives
It is relatively easy to clean
They are small enough to take on the road if you plan to travel somewhere that has a stovetop or campfire.
Cons
The pots are usually very small. This means you won't get a large cup of Joe.
You can't control the brew temperature, and this tends to burn the coffee
The pot is aluminium, and this can sometimes attach itself to the coffee
The taste is inferior in comparison to espresso machines.
To recap – Best Manual Coffee Machines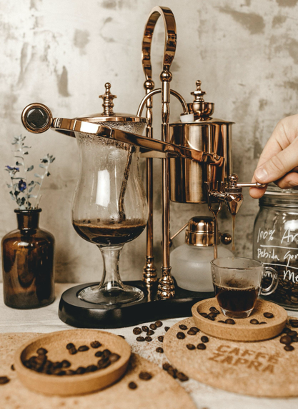 One of the best things about non-electric coffee machines is that they are a cost-effective alternative to electric machines. This can be particularly handy if you are on a tight budget.
Before you buy anything, it is best to shop around and do your homework. And remember, if you are looking for superior quality coffee and can stretch your budget, it might be best to check out some of the electric coffee machine options available. Coffee machines can be expensive, but in the long term, they are great value for money!