Designed 15 years ago, AeroPress Coffee Makers are undoubtedly one of the hidden coffee wonders in the realm of travellers. They are less fragile than a French press, use a pressure brewing technique like espresso makers, and are as fast as pod-type brewers. 
With that in mind, for those of you who do not want to give up their excellent cup of coffee while on the road, these masterpieces are an ideal solution. They're also constructed with high-density plastics, the entire units are super lightweight, and since they fold into themselves, each unit is ultimately around soft drink can size.
What's more? Since none of the working parts are made of metal, you won't have to be concerned about airport security checks. They're also perfect for office and home use when you desire a single, high-quality coffee to start your day or week off the right way.
5 Best AeroPress Coffee Makers
| | | | | |
| --- | --- | --- | --- | --- |
| AeroPress Coffee Maker | Capacity | Material | Features | Price |
| Aeropress Coffee and Espresso Maker | 0.5 Litres | Plastic | Fast, Lightweight, Delicious Results | Check Price |
| Aeropress Go Portable Coffee Press | 0.26 Litres | Plastic, Rubber | Versatile, Fast, Convenient, Ease of Use | Check Price |
| Aeropress Coffee and Espresso Maker With Tote Bag | 0.35 Litres | Multi-ply | Ease of Cleaning, Portable, Reliable, Ease of Use | Check Price |
| 2POUR Aeropress Coffee Maker | 0.26 Litres | Plastic | Lightweight, Easy to Clean, Durable | Check Price |
| Delter Coffee Press | 0.4 Litres | Silicone, Plastic | Pocketable Design, Has a Jet Seal, Compact, Sleek Design | Check Price |
Aeropress Coffee and Espresso Maker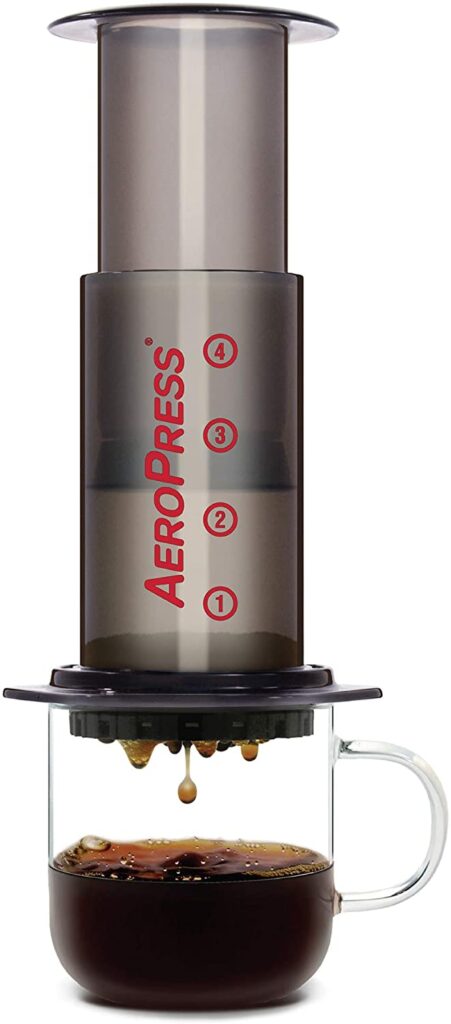 Aeropress recently added this Coffee and Espresso Maker to its lineup, and after taking it through a series of tests, I quickly realized that it delivered the same results as some of the best high-end coffee makers in the market, but in a compact, travel-friendly package. The Coffee and Espresso Maker is entirely self-contained, incredibly lightweight, and slightly bigger than a coffee mug.
Another thing I loved about this stroke of genius is the fact that the brewing method can be infinitely customized to anyone's taste. Simply take the three main ingredients (pressure, water, and coffee), and start trying out different methods until you find the one that best suits your taste.
That said, if this will be your first coffee maker, I suggest you start with the brewing method endorsed by the company. You'll find it in the package. Then once you've mastered the process, you can feel free to get as creative as your mind allows. 
Aeropress Travel Coffee Press – Portable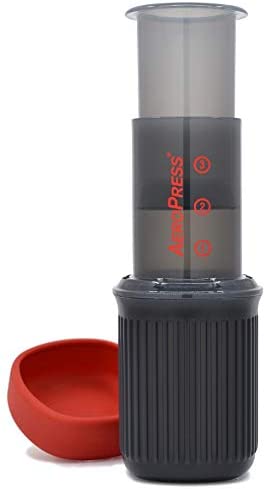 You do not need to be a java specialist to acknowledge a cup of delicious coffee.
If you're like me, then you prefer a strong coffee, with a bold flavour, and one that delivers a remarkable aroma that will start your mornings just right – and that's exactly what this Aeropress Go portable coffee press delivers. 
If you hit the road a lot – whether to enjoy campouts, road trips, or cottages – this AeroPress Go is also a great solution that'll ensure you never sacrifice your favourite cup of coffee. Accessories you'll find inside the package you'll receive from Amazon include a reusable stir stick, a scoop for measuring coffee grounds, and a generous amount of 350 micro paper filters. These are all you need to kick-start the brewing process. 
To top off its list of features, not only does it retail with all the great features you can expect from home brew versions, but all its parts also pack up neat and tidy, which in turn allows you to tuck them away into your carry-on luggage, backpack, or tote bag. 
Aeropress Coffee and Espresso Maker with Tote Bag
This Aeropress coffee and espresso maker is efficient, fast, lightweight, and easy to use, which is practically everything you could ask for from a portable coffee. It comes with a tote bag too – in case you are travelling.
This Aeropress unit brews a cup of Joe in less than two minutes – provided the water is already boiling hot. But still, that's fairly fast for a single-cup coffee maker model as it will allow different travellers to enjoy the exact type of coffee they prefer rather than everyone having to share the same brew. 
Also, as its name suggests, the "Aeropress" coffee maker is versatile enough to make an espresso if required, making it a perfect option for those who would like to brew a quality espresso or robust coffee without needing to acquire a separate machine. 
2POUR Aeropress coffee maker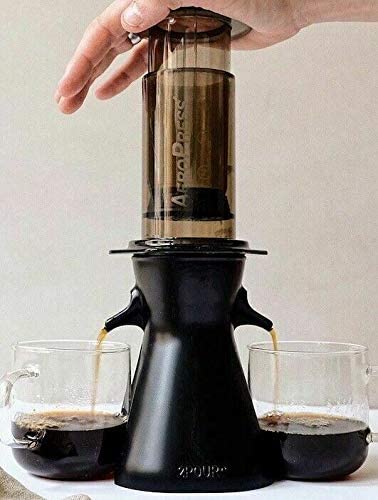 It's no secret that this 2POUR Aeropress coffee maker has been carefully engineered to be easily operated by both expert and novice coffee brewers. So, even if you do not have the skills of a coffee connoisseur, you can still rest assured that you'll get a perfectly brewed cup of coffee.
Some of the brews this 2POUR Aeropress coffee maker can make include Espresso, Americano, and even cold brew coffee. It's also a portable coffee maker, efficient, fast, lightweight, and compact, making it the ultimate coffee brewer for those who love travelling and adventurers. And you can make 2 cups at once – which is a real bonus.
Lastly, this unit is well designed using quality and premium materials, so you can rest assured that it will not break down quickly even if you decide to use it multiple times a day. After four years this Aeropress still performs the same way it did the first time. 
Delter Coffee Press

If you're looking for an Aeropress coffee maker that will withstand the test of time, then I urge you to look no further than this Delter Coffee Press. It qualifies to be featured in this guide because it's portable, lightweight, durable, compact, and efficient – perfect for those who would like to brew their coffee at any time wherever they go.
In addition to that, this masterpiece retails with a jet seal that will prevent any sort of agitation while you're brewing, which in turn implies that chances of ever brewing a less than desirable cup of coffee are little to none.
Above all, the package of the Delter coffee press you'll receive from Amazon will include a pack of disposable coffee filters, a polypropylene cap, a silicon jet seal, a Tritan brew chamber, and a silicone doser.
Which Aeropress coffee maker is best?
These Aeropress coffee makers are timeless brewing devices and a great place to start if you're not ready to sacrifice a great-tasting coffee just because you're too far from home. They're also easy to use, durable, efficient, and will look aesthetic on any kitchen counter. 
Although we like all the AeroPress machines we've looked at – the 'Coffee and Espresso Maker' and the 'Tote bag Aeropress Coffee and Espresso Maker' are our favourites.
---