Enjoying a genuinely sensational coffee is the ultimate pinnacle of your brewing techniques. The process of brewing it; relies on the basics of selecting your coffee beans and grinding them to the perfect size. Finding the best coffee grinder is critical for coffee lovers and baristas. 
Coffee grinders grind your coffee beans fresh and in the right size for your French Press, Espresso or Americano. There are a few interesting facts you need to know before investing in a coffee grinder.
Basics Of Electric Coffee Grinders 

(click here for a detailed discussion on coffee grinders in general)
Grinding coffee beans to the right size is the secret to aromatic and delicious coffee. You can smell the aromatic coffee when it is freshly grounded. So, here are some reasons you have to invest in a coffee grinder
You need the right grind size for the proper coffee.
Freshly ground coffee beans make fantastic coffee.
You need it for the delicious aromatic coffee.
If you love espresso and to try different variations of espresso.
To minimise, wasting precious coffee powder in the filters.
Coffee grinders come in two forms: the Burr and the Blade.
The blade grinders slice coffee beans using sharp blades, giving fine grounded powder. Whereas, the Burr grinder varieties crush coffee beans.
You may prefer the Burr one for its precision and even ground size. But, the price tag is hefty, and the grinder can be power-consuming and bulky.
Again, coffee grinders may have a flat or conical burr. It could be stainless steel or ceramic. With so many varieties and options to choose from, a coffee grinder is a must in your home.
5 Best Coffee Grinders for sale on Amazon
| | | | | |
| --- | --- | --- | --- | --- |
| Coffee grinders | Sizes available | Material | Features | Rating |
| Sunbeam Multi Grinder | 900 grams. generous sizing. |  Stainless steel   | Powerful grinding, Stainless steel blade and easy use. | 4/5 |
| Breville smart grinder | 450 grams | Brushed stainless steel |  Conical burr, 60 grind settings, LCD, dosing IQ | 4.7/5 |
| BodumBistro | 755 grams | Aluminium, stainless steel | Steel blade, Transparent lid, easy push button.  | 4.5/5 |
| Mueller Ultra-grinder | 3.29 kg | Stainless steel | Premium Burr grinder, precision grinding, cutting blades, large capacity. | 4.4/5 |
| De'Longhielectric CG | 2.77 kg | Stainless steel | Conical burr grinder, 18 settings, LCD and large capacity. | 4.4/5 |
Sunbeam multi grinder: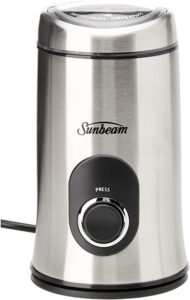 The Sunbeam multi grinder is your best option if you are looking to have fine coffee powder at the touch of a button. The stainless steel blades transform your roasting beans to powder within seconds (almost as fast as an instant coffee) preserving the aroma and the coffee oils. The metal finish adds style and defines your kitchen, making coffee making a breeze. Boasting good customer reviews and minimal wastage of sweet coffee powder, this is the best seller on amazon.
Along with the added advantages, this grinder demands your time and effort to keep the unit clean and tidy after each use. The cord needs to be unplugged when not in use and never run the system for more than 60 seconds at a time. With its low budget and customer ravings, you need to consider buying the multi grinder for your next French Press.
Breville the smart grinder ProCG BCG820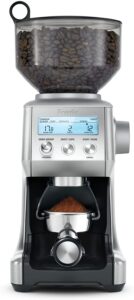 When it comes to the perfect grinder with varying settings, functionalities and excellent customer ratings, the Breville Smart Grinder is your ideal choice. This conical electrical grinder has 60 unique settings to choose from 'cups' for French Press to 'shots' for Espresso. The smart grinder is perfected with a stainless steel finish in colour choices, LCD and pre-programmed settings, giving you delicious coffee within seconds and in a single touch.
Whoever said coffee making is tedious. The Breville smart grinder begs to differ with its unique precision grinding time, giving you the right grind size every time. However, it comes with a big budget and for you to decide on cafe-style espresso at home. We think it is one of the best options with a one-year warranty and a capacity of 450 grams.
Bodum Bistro Electric blade grinder 11160-01UK-3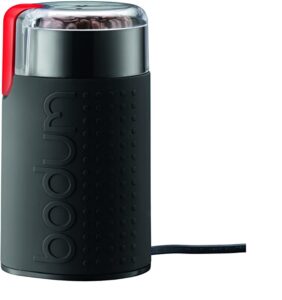 Does the thought of wasting your freshly grounded beans make you cringe? Well, not with the Bodum Bistro coffee grinder. A coffee grinder with a conical burr that crushes coffee beans efficiently and precisely with a touch of a push button. This grinder also comes with an adjustable grinder size and a timer to programme the exact amount of beans to be ground. 
Bodum coffee grinder has a body of stainless steel with a catcher made of borosilicate glass (static-free). With a twist grinding dial and a compact design, it is sure to impress you with a cafe-style aromatic espresso. The unit does ask for some love and care and cleaning up after each usage and lacks an auto power-off button. For a quick, easy and straightforward grinder, this machine should top your list.
Mueller Supreme Beans Ultra-Grind Conical Burr grinder CG900-Black  *Our pick*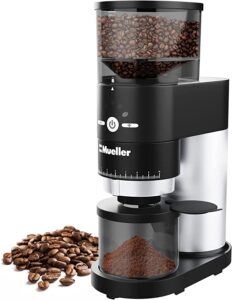 The Mueller brand of Austria is known for its superior and best quality products in the market. Coffee grinders are no exception. The Mueller supreme ultra grinder is one of the best grinders with its large capacity and precise grinding. The grinder has a conical burr with steel blades to grind the beans with uniformity while preserving their flavour and aroma.
The large volume consisting of the coffee bean hopper and the ground container can make around 30 cups of coffee in one push. To top it up, it proudly displays advanced cutting technology with precise grinding and a single ON/OFF button. 
If you are shopping for a grinder with the best quality, precise grind size and catering to a large family, look no further than the Mueller supreme coffee grinder with around 2k customer ratings. It doesn't come cheap, though and does require your care to last longer for a delicious coffee experience.
De'Longhi Electric coffee grinder KG521M

A professional and barista coffee needs to be made by experts using superior technology. The De'Longhi coffee machine takes the credit for it. When it comes to an expert, efficient and precise grinding at home, this coffee grinder wins the prize. The grinder showcases an adjustable 18 grinding settings for the right size granules for excellent coffee.
Additional features include adjustable grind settings on an LCD that is user-friendly and can be personalised for your needs. Next comes the flexibility of grinding coffee beans directly into the coffee grounds container. The De'Longhi claims a capacity to make up to 14 cups of grounded coffee with the bean hopper holding up to 350 grams. 
With the Italian heritage in the distinctive design, cutting-edge technology and elegant finishing, the De'Longhi coffee grinder is undoubtedly a masterpiece that fits in all households and budgets. With excellent customer ratings and reviews, you are sure to be delighted with your coffee investment.
Conclusion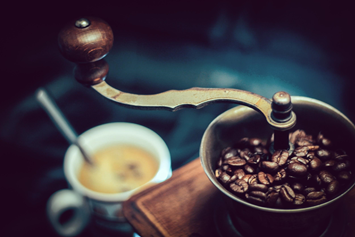 Coffee grinders are an inevitable gadget in your array of coffee appliances. Coffee needs to be brewed and enjoyed with freshly roasted coffee beans, grounded in perfection to make delicious and aromatic cafe-style coffee at home. Coffee grinders come in various sizes, shapes, volumes, functionalities and price ranges, but the final choice is yours to make. Regardless of the differences- the purpose is the same,  caffē Perfetto.