We've done some research to find the best Burr Coffee Grinders for your kitchen
Freshly ground coffee beans are best
If your goal is to improve your everyday caffeination ritual, then investing in one of these 5 burr coffee grinders is a small change that will deliver some serious return on investment.
How?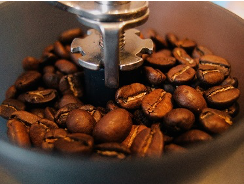 First, your coffee will taste more complex and generally brighter. Whole coffee beans usually stay fresh for several weeks after roasting, but note that grinding them will expose them to oxygen and release precious oils, which in turn means that every minute from there onwards is a countdown toward staleness.
Put another way – while buying ground coffee beans, you are actually acquiring them stale. Grinding them yourself, on the other hand, makes sure that very little is lost between the grinder and your coffee cup.
Second, you will have more control and better brewing options. Perhaps you rely on drip coffee makers to push you through hectic Monday mornings but prefer to indulge in a Chemex come Saturday morning. Whatever your preferences, your coffee grinder will allow you to adjust the functions to precise settings that suit your preferred brewing style (from sandy and coarse for perfect press pots to fine and powdery for artful espressos). 
Why buy a burr coffee grinder?
Well, the truth is, like all other household appliances, coffee grinders aren't all created equal. There are cheap models known as "blade" grinders, which retail with propeller-like blades that'll whirr with a press of the lid.
Instead of grinding your coffee beans, these models chop them up violently, resulting in coffee grounds that are inconsistent and bruised. No one wants that – and that's why experts agree that the best coffee grinding models for the job are burr grinders. Unlike blade grinders, these masterpieces break down your coffee beans by meticulously spinning them against a coarse surface. Think of it as a high-end mortar and pestle. The burr grinder gives a consistent grind every time.
What's more? Burr coffee grinders are available in a wide array of designs and price points, meaning you won't need to break the bank to upgrade your home's brewing kit.
Without wasting any more of your time, here are 5 well-regarded models that consumers find deliver as advertised.
Top picks for Burr Coffee Grinders on Amazon
| | | | | |
| --- | --- | --- | --- | --- |
| Burr Grinder | Capacity | Material | Features | Price |
| Cuisinart professional coffee grinding mill | 18 Cups | Stainless Steel | Ease of Cleaning, Durable, Reliable | Check Price |
| Capresso 575.05 Conical Burr Grinder | 12 Cups | Stainless Steel | Safety Features, Durable Build Advanced Tech, Ease of Use | Check Price |
| Breville BCG820BSS Smart Grinder Pro | 12 Cups | Stainless Steel | Aesthetic, Ease of Use, Versatile, Durable & Sturdy | Check Price |
| Mueller Supreme Conical Burr Grinder | 32 Cups | Stainless Steel | Large Capacity, Precision Grinding, Ease of Cleaning | Check Price |
| De'Longhi KG521M | 14 Cups | Stainless Steel | Durability, Ease of Use, Sleek Design | Check Price |
About the 5 selected Burr Coffee Grinders
Cuisinart Professional Burr Coffee Grinder
The Cuisinart professional coffee grinding mill has been equipped with a 150-watt motor. I know it's not the most powerful in the realm of coffee grinders, but it proved beyond a reasonable doubt that it has enough juice to handle the needs of any home.
For instance, if you set it to an average size, it'll grind enough coffee beans for up to 18 cups in less than a minute. And you won't need to keep emptying the grinding container, as it can hold more than 30 cups.
Even better, while using this Cuisinart model, you'll be allowed to choose between three different mills, namely fine, medium, and coarse. Each grind has been further divided into six consistencies, reaching 18 different choices in total. 
Capresso 575.05 Conical Burr Grinder
The Capresso 575.05 Conical Burr Grinder has been manufactured with a very durable heavy-duty zinc die-cast housing. I know a friend who has been using a similar model in his restaurant for years now, and when I reached out to him to ask how it performed, he pointed out that it has never run into any issues.
During my test sessions, the bean container held up to 250 grams of coffee beans. That said, with each grind, the unit's motor proved slower than most conventional coffee grinder models (450 rpm.) This felt like a disadvantage at first, until I did more research and learned that the speed allowed it to deliver better precision results.
As you'll notice after visiting Capresso 575.05 Conical Burr Grinder's product page on Amazon, the appliance has also been equipped with a Safety lock system for safe operations during and after use. When the beans' container isn't locked, the auto shut-off feature will kick in to add on to the safety. 
Breville BCG820BSS Smart Grinder Pro
For increased control and accuracy, you receive an LCD display with the Breville BCG820BSS Smart Grinder Pro unit. Using the screen, you can view the grinding duration, grinding setting, and see the number of cups you've selected.
Another unique feature of this burr grinder is its compatibility. It allows you to grind directly into a gold-tone filter basket, a paper filter, an airtight container, or a portafilter. In fact, you can also pair it with a Breville Dual Boiler machine.
To make things even more interesting, you will find several accessories in the package you will receive from Amazon, including a free cleaning brush, a large portafilter cradle, and a small portafilter cradle. All these are there to improve the tool's flexibility. 
Mueller Supreme Conical Burr Grinder 
If you're in the hunt for convenience and an aesthetic appeal, then you shouldn't look any further than this Mueller Supreme Conical Burr Grinder.
Founded decades ago in the 50s, Mueller Austria (this product's manufacturer) is a home and kitchen appliances brand best known for its ability to integrate durability and aesthetics in all their appliances – and this product serves as a testament to that statement.
On this coffee grinder, you also enjoy precision grinding, thanks to the dedicated gear reduction motor integrated into the appliance. The motor will keep heat and noise to a minimum, while at the same time optimizing the taste and feel of your coffee. 
De'Longhi KG521M 
De'Longhi KG521M boasts a digital LCD display and 18 variable settings for pour-over/drip coffee, espresso, and French press. All those features coupled together will allow you to customize your grinds like a professional. 
De'Longhi KG521M also allows you to either grind a single espresso directly into a portafilter or grind as many as 14 cups and keep them fresh in the convenient 170g coffee grounds container.
Another feature of the De'Longhi KG521M worth noting is the fact it's designed to be extra quiet. Its motor will grind slowly, which will not only ensure less noise output but also makes for better precision grinding (as noted earlier.)
I hope that this guide on the best burr coffee grinders has helped you pick the best unit for the money. Every unit in the list is top of the line and is assured to meet your brewing needs and preferences. With that in mind, if I were to pick from the list above, my best overall pick would be the Breville BCG820BSS Smart Grinder. 
The unit has been fitted with a backlit LCD screen that makes it extremely easy to use. Better yet, it permits its users to grind the coffee into any container they choose.
What's more? The coffee grinder has been manufactured with stainless steel of the highest quality and retails with heat-resistant burrs and 60 grinding options.